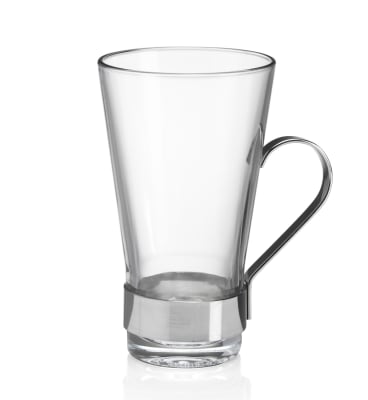 I do like nice coffee. It is one of my little indulgences. And to that end I was chuffed when Sally (Mrs Nukelearfishing) gave me a nice glass mug (full of sweets) for Valentine's Day. Somehow it makes drinking nice coffee just that little bit nicer. In fact it was so nice that when I received a birthday 25% discount voucher from the high street store* from which she purchased the glass mug (which was very nice of them) I decided to use it (and some of the money I was kindly given for my birthday) to buy three more of them so I could bless others with nice coffee in nice glass coffee mugs.
(It also means that I have a supply of them for when the dishwasher has not yet worked its magic on any I have recently used).
I ordered the glass mugs from the high street store's website, using the discount code, and was pleased with how quickly the delivery arrived. Because I am a bit of a cheapskate I decided to have them delivered to the local store (which is free) rather than pay to have them delivered to my home and then having to chase them up when the card is pushed through the door saying that they were unable to deliver my parcel. When I got to the store yesterday I went to the collection point and the nice lady went and got the box in which they were delivered.
She opened the box up and two of the three glass mugs were cocooned in amazing protective paper 'cocoons'. I think I could have dropped them from an upstairs window and they would not have broken. The third one was in a little bubble wrap envelope. I made a joke to the nice lady about wondering what that mug had done wrong not to have been wrapped so well and she smiled indulgently (see, I told you she was nice). She wrapped it in some of the packaging that was in the box and then put all three in a bag for me to take home.
When I got home I unwrapped the glass mugs and was disappointed to see that the one which was in the bubble wrap envelope had a couple of obvious scratches on it. Perhaps that is why it was on its own and not in a paper cocoon. The other two were in pristine condition. I decided to contact the customer services people on the phone number that came with the receipt and a very nice man on the other end of the phone listened to my problem, apologised sincerely, and arranged for a new glass mug to be delivered to the store today. He also said that I did not need to return the scratched one and that if it was serviceable (it is) I could use that too.
Now that's what I call good customer service. Indeed, I think that is a good example of grace.
It made me wonder whether that is the sort of grace and service that people expect to receive from churches? If not, why not? And surely we should be exceeding that considering the grace we have received from God…
Be blessed, be a blessing
*I am not endorsing any particular retail business but if you wanted to know which one it was it is often known by the initials of the two founders that might sound like 'emaness'.